The freedom to build your own brand
Cougar Den's unconventional business model is disrupting the fuel industry. With the advantages we are able to provide, tribal fueling stations can use strategic pricing to capture untapped markets. By working with us, our partners have proven the Cougar Den Advantage time and time again.
Within the first six months of using Cougar Den,
your fuel station can...
Increase your volumes
Increase your margins
Increase your inside sales
We Live by Our Word
At Cougar Den we live by our word. We believe each and every tribal station is unique and has different goals and outcomes it wants to achieve. We work with each station to develop an agreement that works and makes sense.
When you order fuel from us, we promise to provide great service, fast delivery, and big savings.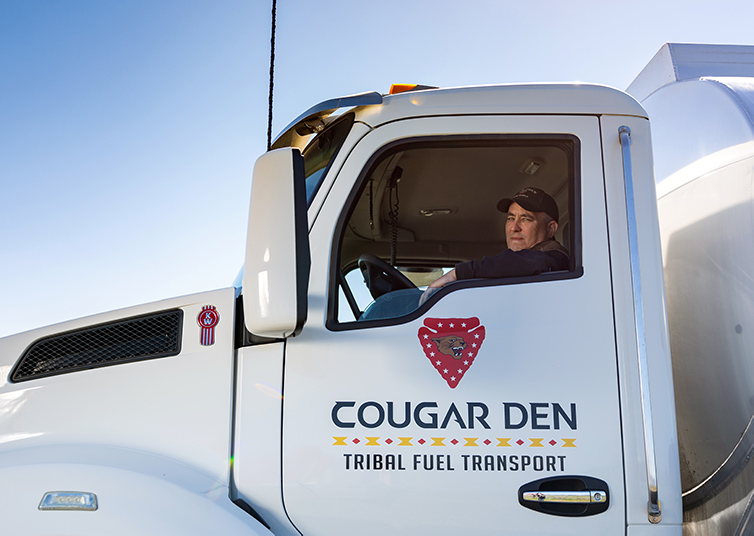 Easy ordering and delivery - your 24/7 partner
Ordering fuel is easy with Cougar Den. We constantly watch the fuel market and offer three different filling strategies to our partners:
Keep Tanks Full
Your tanks will always be topped off
Market Watch
Shop the rack for the best price
Just-in-Time
Never worry about running out of fuel
Depending on your strategy, we deliver fuel to your station within a day, and you receive an invoice the very next day. Whenever you need help or have questions we're just a phone call away—24 hours a day, seven days a week.
The Future of Tribal Convenience Stores
Tribal fueling stores have the potential to become major revenue generators for tribal nations. We have experienced this firsthand: over the years, our tribal fueling station customers have seen exponential growth. Store managers can take several different pricing strategies and achieve a positive net gain with endless possibilities. Cougar Den has the experience, the ability, and the mission to provide quality gas and diesel to tribal enrolled members and tribes at the best possible price.
Control your margins, build your brand, and exercise your sovereignty.
Get in Touch